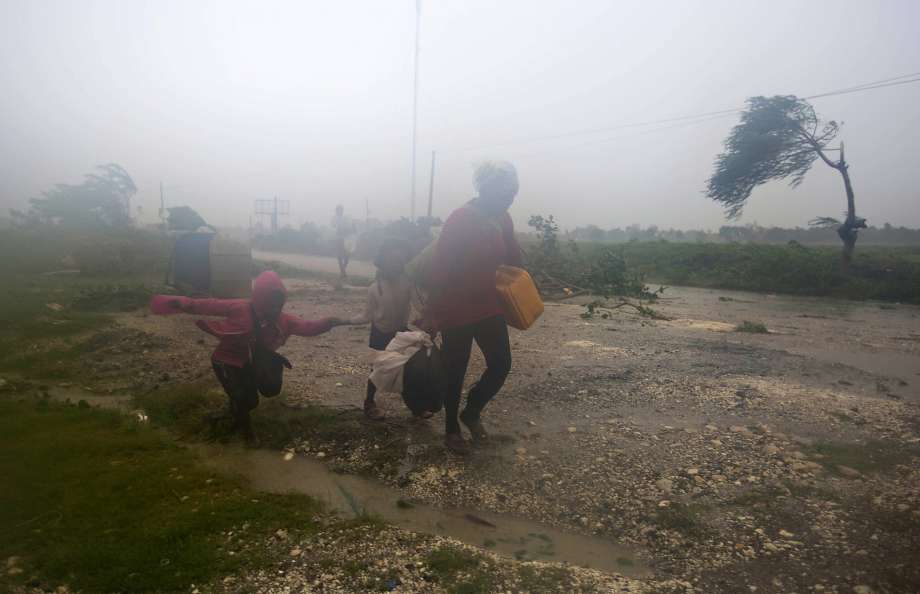 Hurricane Matthew roared through Haiti Tuesday as a Category 4 storm, causing much destruction along the south and west coasts, including the cities of Jeremie and Le Cayes. Roads are washed away, farmlands destroyed just as they were ready for harvesting, and water sources are at high risk of contamination. 10,000 people are displaced from their homes. Communication is disrupted. Because of damage to a major bridge on the main highway, movement between the north and south is also disrupted.
Most of the area served by Hands Up for Haiti, including the city of Cap Haitien, was spared major damage or flooding. Many of us have witnessed first hand how severe the flooding can be in vulnerable areas such as Shada and in Bas Limbe at Haiti Village Health with heavy rains, even when not caused by a hurricane. We are very proud of all of our staff who worked hard to prepare for the storm, warned local residents in rural areas, and safeguarded our medications and supplies of medika mamba for our malnutrition program.
But while our clinics were not directly damaged, we still feel the effects of a disruption in farming and the contamination of water sources. After the earthquake, cholera started in the central plateau but quickly spread to the north where we work via the rivers. And when farmlands are destroyed right before the harvest, as they were by Matthew, there will be effects on the availability and cost of food throughout the country. In addition, the movement of supplies and people from Port au Prince to Cap Haitien may be limited by destruction to roads and bridges. We will monitor the situation carefully along with all of our partner organizations and hospitals. As we get more information, we will pass it along.
For those wishing to help out now, please go to DONATE-HURRICANE   where you can  donate to the Hurricane Emergency Fund. These funds will be used to help prevent waterborne diseases, mitigate food shortages, and sustain our efforts to make certain that all Haitians receive the health care that they need. We will work to identify partners who are directly assisting the people most affected. Thank you all for your prayers and for your support for Haiti.
Cover photo by the Seattle Times.