2021 was a year like no other in Haiti, a year filled with challenges and disasters that shook Haiti to its core: political unrest, natural disasters, massive fires, food and fuel shortages, gang warfare, and the Covid pandemic as the backdrop to it all.
But Hands Up for Haiti's frontline workers, our team on the ground, persist. Our employees show remarkable courage in the face of personal danger, facing down these challenges, stopping at nothing to protect the health of others. They can do this because of the support that you continue to give.
What did we accomplish this year?
Kairam Klinik Byen Bebe Program: 325 babies from birth to 1 year have received well-baby preventative care at our 4 sites.
Medika Mamba Malnutrition Program: 673 malnourished children have been treated at 5 sites in our malnutrition program.
Pediatric Emergency Referrals: 65 children have been referred to our partner hospitals for advanced, lifesaving care this year alone using our Emergency Care Fund.
Prenatal Care, Education & Nutrition: 534 women enrolled in our Prenatal Program this year, double last year's enrollment.
Helping Babies Survive Skills Training: 40 Matrones, 63 nursing students and 60 nurses were trained in HBS by our program nurses.
Mobile Santè Outreach Clinics: 993 patients were treated as our team held pop-up medical clinics in 12 different communities before clinics were suspended due to circumstances on the ground, plus 50 more when we held a clinic at the end of the year in the fire zone.
Humanitarian Crisis Food Distribution Efforts: 1400 families in need throughout our 5 communities received essential food supplies during a period of dire food insecurity; we distributed an additional 120 food kits to victims of the fire.
Helping Victims of last December's Explosion in Cap Haitien: Delivering health care and humanitarian aid, including 120 food kits, to the scores of families left homeless by last week's massive explosion and fire
Community Water Project: We dug 1 new water well to bring our total to 15 wells in 7 different communities.
Earthquake Relief: We donated $12,000 to partner organizations to deliver direct relief to the affected region after the devastating earthquake in August.
Hypertension Screen & Treat: over 200 patients are treated in 2 communities, preventing stroke and premature death.
Youth Health Education: 5 sessions for 147 students ranging in age from 13-20, who will return home to their 5 communities to share their knowledge.
Saving Vision: patients are screened at Mobile Santè, and referred for care at HUFH's expense to the few ophthalmologists working in the north.
Over 75,000 children and adults have been treated in our clinical programs
over the past 11 years.
We've accomplished this because our frontline workers persist in the face of unimaginable challenges, in large part due to your support.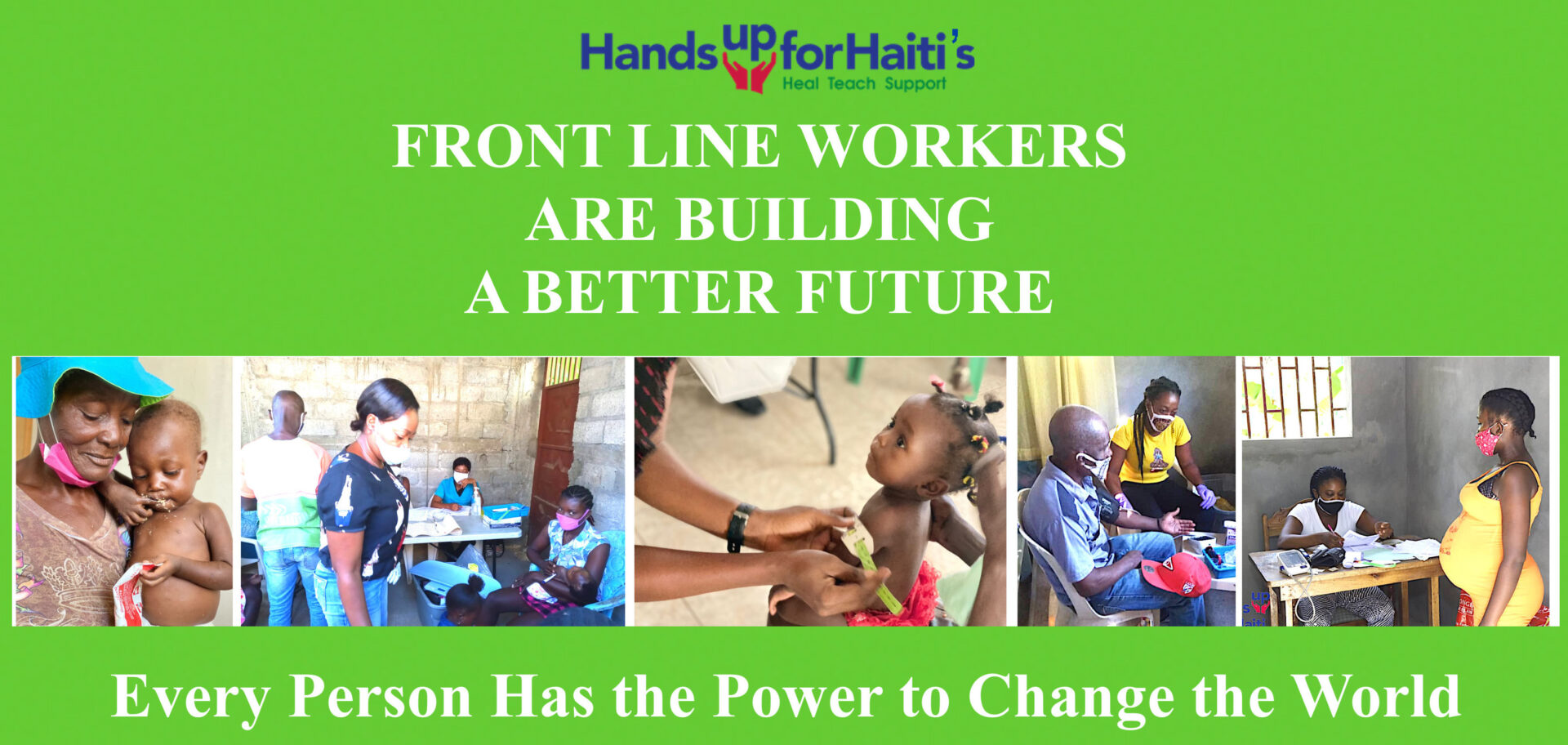 Why does our staff persist?
---
"For myself even I am not a medical professional and I am not working directly in ground with the patient in the communities. But as a leader and head of the organization in country, it is an obligation for me to accompany our employees to give them strength. Secondly, is to show respect to all the Board members and donors that sacrifice
themselves to support my people. While they are making all those efforts, I would be guilty to stand with hands folded, seeing my brothers and sisters dying because of lack of healthcare. Sure, it is dangerous and insecure for everyone in Haiti, including our employees, but the situation would be worse if we abandoned communities in the countryside -- if no one heard their voices because the shortage of the gas. To go to work despite the situation in Haiti, you have to have a good heart and love others: I consider all the employees at HUFH as bon samaritan."
Fritznel Jean, In-Country Assistant Executive Director/Human Resources Manager/Legal Liaison/Archivist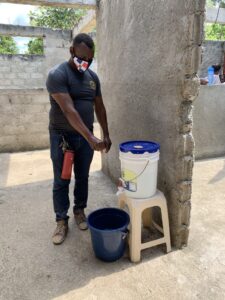 "The situation is very difficult. What make my object of motivation to continue my work with HUFH? The sense of belonging is what makes us manage our family through thick and thin well, that same sense of belonging to the organization that is our family, is what keeps us going through difficult situations."

Miguel-Ange Michel, Medika Mamba (Malnutrition Program) Supervisor/Supply Chain Manager/ Administrator Mobil sante program: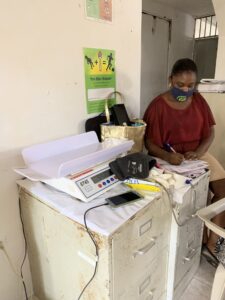 "Because I love the work I am doing and I do it will all my heart. I like to seeing my patients. No one is safe no matter where you could be, instead of staying home, I go to work."

Verline Alfred, Director of Nursing and Program Nurse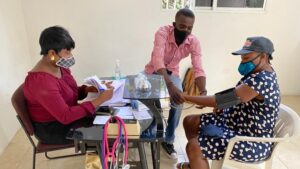 "As I deal mostly with old people, I realize their needs for medication is crucial so that no matter what, I go to serve them."

Lamadieu Jessica, Nurse, Hypertension Program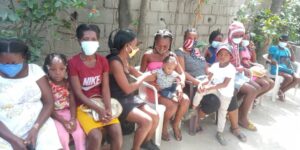 "I keep working despite the situation of the country because I want to keep the community in good health."

Theodore Dasamour, TSK (community health worker)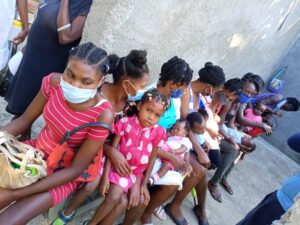 "I find myself in obligation to save life of the children and the pregnancy women despite the situation."

Collas Marielle, TSK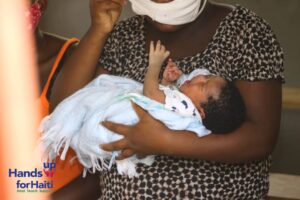 "I go to work because I love my job."

Jodlin, General Assistant and Security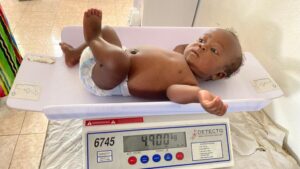 "Because I want to help my country."

Valmyr Adeline, TSK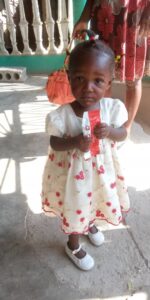 "My hope is to see all kids healthy, that's why I go work."
Joseph Dulasse, Assistant Nurse, Malnutrition Program
"Because we have to save life of the pregnancy women, and the post-natal ones."
Thomas Discerne, TSK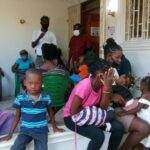 "The reason why I go to work is to help my community stay healthy so that the kids don't become severely malnourished and to help myself economically."
Mondesir Wideline, TSK Robillard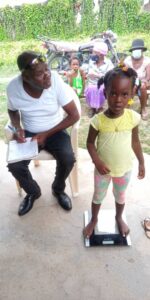 "My motivation is the willingness to help others."
Edline Celestin nurse, Nurse, Malnutrition Program: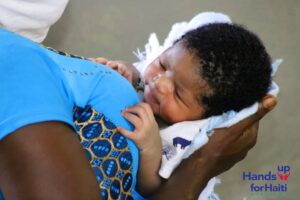 "I keep working because I love my profession as nurse and to serve my community as I promised."
Zephir Philomene, Nurse, Well-Baby Program
"Because I love my community and want to help them."
Mondestin Lowens, TSK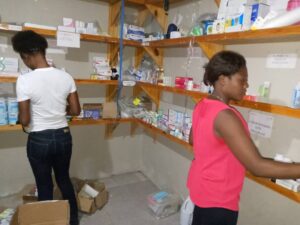 "I go to work because I want to help others."
Jean Baptiste Wildine, Pharmacy Tech

"Because I want to help my community and help the weakest and it helps me take care of my family economically."
Josiane Bien Aimé, TSK

"I feel myself happiness when I am working with the kids and pregnant women."
Joachim Gracuis (Mme Bwa), Matrone (traditional birth attendant):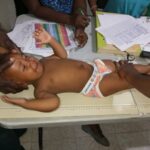 My community has lot of malnourished kids despite the situation of the country I have to go for work to safe their life.
Clermond Jenson, TSK

They won't give up and we won't give up either!