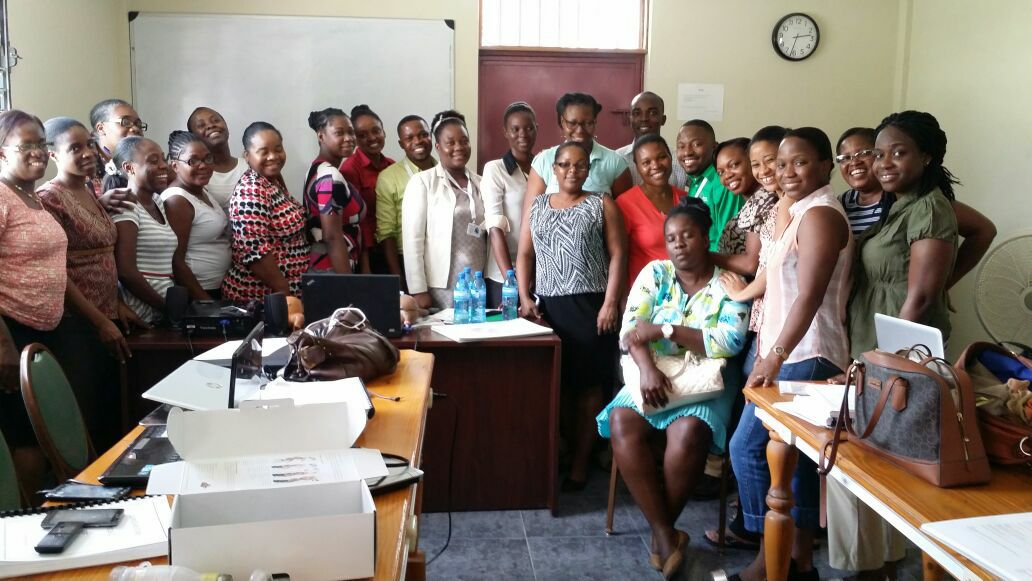 Yesterday was a really wonderful day for Hands up for Haiti. It was a day that saw dreams, vision and hard work bear fruit and become reality on the ground. Yesterday, our Haitian staff taught the life-saving skills of Helping Babies Breathe to 24 Haitian nurse practitioner students, who will in turn teach these skills to others, saving countless babies now and in the future. But yesterday was more.
Yesterday was a day when we accomplished this task by empowering our own staff to be leaders and instructors. Yesterday was a day we watched a medical professional we helped to train return to his country to train others. Yesterday was a day of collaboration with another organization also dedicated to improving health care in Haiti by training local providers. For HUFH, helping to build a sustainable health care system in Haiti means supporting programs that are led by our Haitian medical staff who know the best ways to deliver care to their communities. It also means collaboration, one of the many things that make HUFH special. Yesterday saw all of that happen.
I am a co-founder and past President of Hands Up for Haiti. A practicing pediatrician, I am also a master instructor in Helping Babies Breathe, a course which has been put together by the American Academy of Pediatrics and Laerdal Global Health to reduce infant mortality by teaching simple resuscitation techniques to traditional birth attendants and provide them with the necessary, reusable equipment. We teach the course to facilitators, typically nurses and doctors on the ground, who will in turn teach traditional birth attendants, and by doing so ensure that every delivery in Haiti will have someone present who knows the basics of neonatal resuscitation and how to prepare for a delivery and care for an infant. Haiti suffers from one of the highest infant mortality rates in the world, 60 per 1000 babies born. There are 273000 infants born each year in Haiti, and with this program, it is estimated that newborn death and disabilities from lack of breathing will be cut dramatically by almost 90%.
I have taught the class several times in person while in Haiti. Promoting Health in Haiti, a US-based organization training the first nurse practitioners in Haiti, initially asked me to teach the class remotely from Westchester to a class of 24 nurse practitioner students to be held yesterday in Port au Prince.
As I contemplated the challenges of teaching resuscitation and simulation remotely, it occurred to me we have the equipment in Haiti; we needed to get it from Cap Haitien to the school in Port au Prince, but that was doable.
The next epiphany was that we indeed have trained facilitators in Haiti – professionals we have trained since 2011 as part of the over 200 individuals we have taught on the ground. What better team could there be to teach within country?
Five of our staff, Dr. Manol Isac, our in-country Executive Director, nurses Youseline Pierre-Louis and Rose-Lourdes Dorvil, nurse practitioner Wisly Lindor, and Sonel Eugene, our Head of Translators and Community Lectures, traveled a perilous road to Port au Prince to collaborate with Promoting Haiti Health to teach the nurse practitioner students the Helping Babies Breathe Course. That they were able to make it at all in the face of road closures is a testament to their commitment and belief in this program and its importance. That is what made this day possible.
Perhaps equally amazing: Wisly himself is a graduate of the Promoting Health in Haiti program. We met him when he was in New York to train as a nurse practitioner, and brought him into HUFH when he returned to Haiti. Wisly now helps run our hypertension screen and treat program and our malnutrition program, and works with the eye team. And now: he returns to teach more Haitian students as they become medical providers in their own country.
Pictures speak louder than words- the day was a success, the energy reverberated across the miles and the internet to all of us who are dedicated to improved birth outcomes for all children. Congratulations to this amazing team- Manol, Youseline, Rose-Lourdes, Sonel and Wisly: you are the heroes of this story.