When I first went to Haiti three years ago, I believed it would be a one- time experience. I had never traveled on a medical mission and I had no experience in global health. But I was profoundly changed by that trip and I resolved to return and try to make a difference for the people of Haiti. But I am also a teacher. I train young medical students and residents in the art and practice of pediatrics at the Goryeb Children's Hospital in New Jersey. It seemed natural that I combine these commitments and try to provide these young doctors with a global health experience at the beginning of their careers in medicine.
Over the past two years, Hands Up for Haiti has helped me bring three groups of young medical students and residents to Haiti to experience the practice of medicine in a resource poor country. Some call it medical volunteerism, and have expressed concerns about the effect of these medical missions on the people of the country we are serving.  Hands Up for Haiti has done a remarkable job of promoting sustainable health care in the clinics that we serve and this goal is incorporated into our training programs.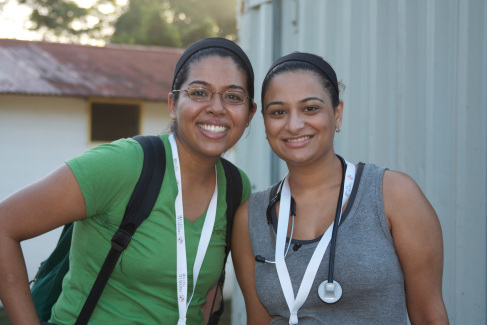 "I am seeing things here that I only read about in textbooks", said Madan, a fourth year medical student. We had hiked several miles and crossed a river in small fishing boats. The village of Gioton is a remote fishing village on the Northern coast of Haiti. It is so remote that there is no road access, limiting the available resources for the people. After setting up a makeshift clinic in the village church, using pews for exam tables, we began seeing hundreds of children. Their parents had been waiting patiently since dawn for us to arrive.
We were here to vaccinate them and to identify children who were malnourished. Our nurses weighed and measured each child and our translators worked very hard to communicate the parent's concerns to the residents and students. Pediatrician Dr. Hemant Kairam had joined me on this trip to supervise and teach the students and residents. "I have always wanted to teach Global Health and Hands Up for Haiti has given me this opportunity to share this experience with young doctors just at the beginning of their training "
Viraj , a pediatric resident at the end of her internship, was amazed that she was seeing patients without a lab. "You have to rely on your physical exam skills since you cannot get lab work or X rays. I feel like this is helping me be a better doctor."
Beyond the medical skills that the residents and students learn, there are harder lessons to learn. This is the hidden curriculum of Global Health that goes beyond the medical cases of tropical infections and the effects of severe malnutrition and diarrhea. Perhaps these are the true lessons that will live with them throughout their careers.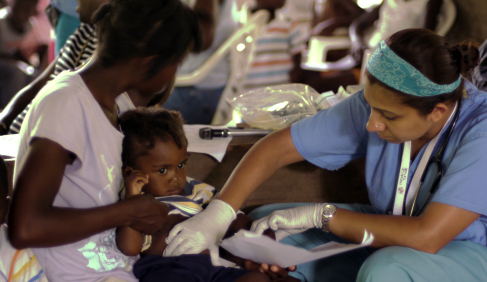 Lesson One: The One vs the Many:
During our first trip, after hiking to an extremely remote village, we met a young boy named Emerson with a rare condition. Emerson was born with an ectopic heart. His heart was located outside of his rib cage and visibly pulsing beneath his abdominal skin. This is a congenital defect that would have been fixed in infancy in the US. But for young Emerson, it is too late for surgeons to correct the defect. To our amazement, he is growing and even playing soccer with his friends, only sometimes using the makeshift protection that his family puts on his chest so that his heart will not get injured.
"Can we get him to a cardiac surgeon and fix this? " one of the students asks. That led to a conversation about what that would mean for Emerson. The clinic we had worked in had brought him to a visiting cardiologist who had made some inquiries about repairing the defect. "What would that mean to Emerson ?", I asked the group. I wanted them to reflect on taking this child out of Haiti to the United States, perhaps without his family, having him undergo surgery that may or may not work. If he survived, he would be in an ICU, and he may or may not understand what is happening to him. After some time, we send him back to his isolated village with no electricity or refrigeration, perhaps needing ongoing medical care that will not be available to him.
The expense is enormous and could that money not be better spent on creating a clean water system for his entire village, or treating every child with malnutrition. This gave them all pause to reflect on this very basic ethical issue of global health. Spending enormous amounts to treat one patient, perhaps with great publicity, and yet returning him home without the ongoing resources he needs, or helping an entire population with basic needs such as clean water and better sanitation.
Lesson Two: Developed vs Developing Nations: An imbalance of resources.
On my second trip, a young boy came into the clinic after a machete accident. He had severely injured his arm and hand, and if not treated he could lose the function of both. It was late in the day and most of the team had retreated to a nearby beach for some relaxation after a long day at the outreach clinic.  My third year pediatric residents had stayed back at the Sante Pou Yo Clinic. They immediately rushed to help this eight year old boy, debriding his wound, applying antibiotics, and giving him a tetanus vaccination.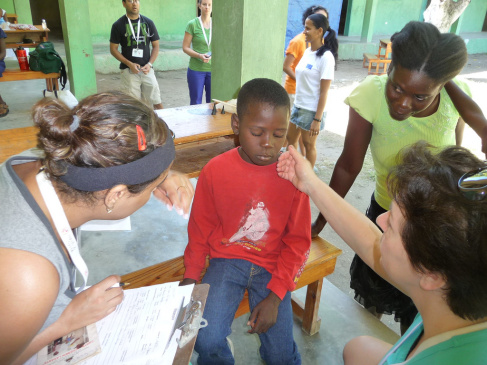 But he needed surgical help. The hard lesson, the clinic could not give his mother the money to get him to a hospital two hours away by "moto" and for the hospital treatment. The clinic director explained the hard economics of running this remote medical clinic on limited funds. If they gave everyone money to go to the hospital, the clinic would not be able to provide the daily medical services of the Haitian doctor who worked there. They were angry and upset at this injustice and pressured the director to arrange for transportation and a consult with a orthopedist at the hospital the next day. But it was clear that this was not right. The injustice of this imbalance of resources would stay with them all the way home.
Lesson three: A drop in the bucket.
My last trip, I thought I had prepared my residents well. All four had participated in our hospitals Global Child Health Certificate Program. There were lectures and required reading about all topics, both medical and ethical. But the classroom is no match for real life.
We arrived after a series of storms to washed out roads and flooded streets. Severe flooding had killed many people in Cap Haitien right before our arrival including a family with three children swept out of their slum dwelling in the night. To make matters worse, a cholera outbreak occurred just when we arrived killing several people, including children in the first wave of disease. Working conditions in our makeshift clinics was very challenging. Yet these young people worked tirelessly seeing hundreds of patients and working side by side with a young Haitian doctor.
By our last day when we returned to Cap Haitien to work in the clinic in Shada, the slum area of the city, the residents were exhausted and wondering if we really made a difference. Christina, a second year pediatric resident, was examining a small infant who was having trouble breathing. The woman who brought this baby in was not the mother. She had found this baby abandoned in a garbage pail. She had asked the police if she could take care of the child, and no one objected. The baby was very ill with probable pneumonia, lethargic and struggling to breathe.
Christina called me to help and we quickly treated the baby with some respiratory meds and gave the baby a life saving shot of antibiotics. Afterwards, Christina was clearly shaken. "How could anyone just leave a baby like that." I had to explain the facts of hard life in Haiti. If you cannot care for your baby, maybe you see no other options." But I reassured her that we just gave that baby a chance. We were there at the right moment for that infant. "But what happens when we are not here?" . Even I had to stand back and wonder about the sustainability question that plagues those of us who practice global medicine. The Shada clinic only has enough funds to open two mornings a week. Patients are seen by a Haitian doctor who does her best to serve this impoverished population, even in a limited way.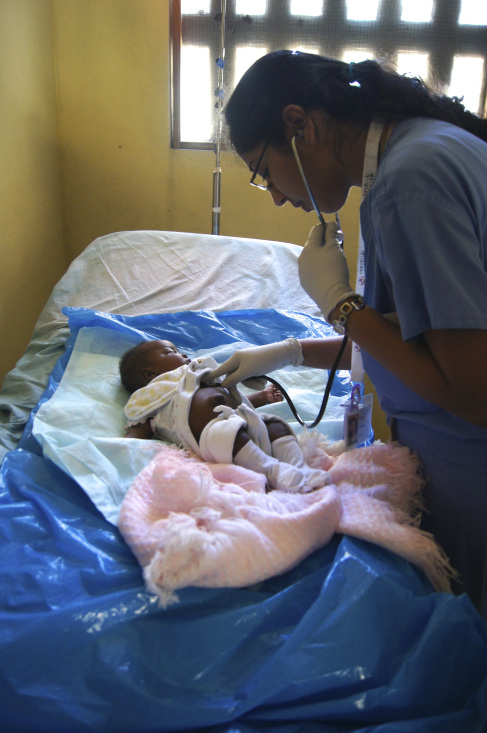 These lessons cannot be learned in a book. They can only be experienced. But to have this experience without someone helping you to process all of this would be more difficult. It is an honor and a privilege to help these young doctors understand the challenges facing most of the world's population today. As most of us, they come back changed, with a deeper understanding of the greater world and the injustices that exist.  The hidden curriculum of global health education provides something beyond classic medical training.  These are profound and hopefully lifelong lessons that will help these young physicians to become well rounded clinicians of the world.