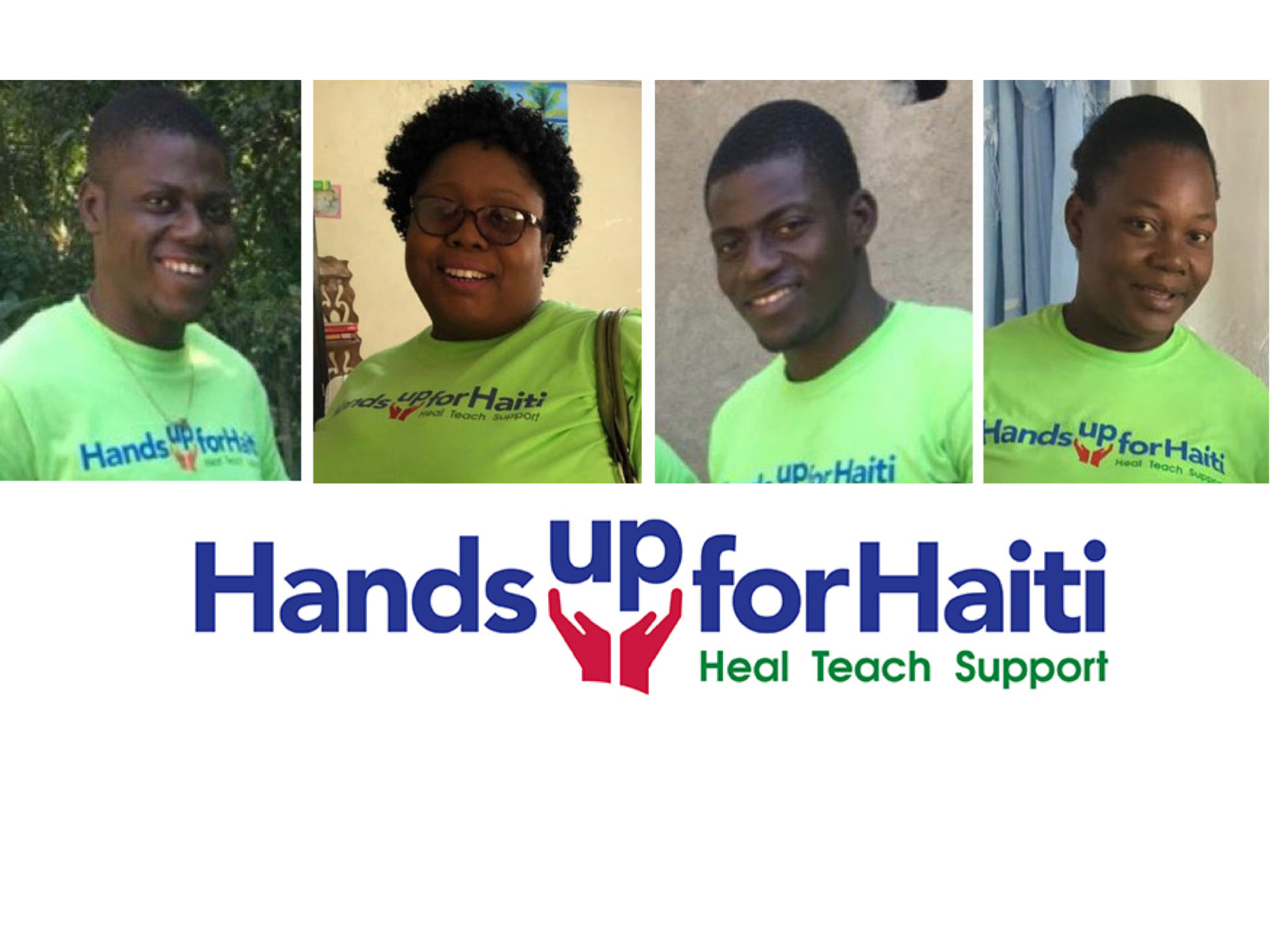 As we focus on Haitian Run - Haitian Led, Programs that last, Hands Up for Haiti is pleased to introduce you to our new in-country management team. We want to share with you their hopes and goals for Hands Up for Haiti under their stewardship, hopes and goals that they will fulfill by leading on the ground and collaborating fully with mentors and other global health professionals in the US, in Haiti and elsewhere. Their full bios can be found by clicking here. What follows is a brief statement from each of them describing how they each see their role as leaders and what they hope to accomplish for HUFH.
Thermitus Jean – In-country Executive Director and Chief Pharmacist
Thermitus envisions his leadership as in-country Executive Director as follows:
"As the first member of the organization in the field, I am committed as the good captain to bring the boat with everyone to the good port of success. Pharmacist and Executive Director make me a real member of the big family called HUFH. I also recognize as the first person of the new administration of the organization, see in me the drive to totally succeed to reach our goals.
"As a leader I will use all the right steps for the advancement of the organization in all areas. I always have in me the sense of responsibility, integrity and all the good qualities that would be better for the work I am contributing. I represent HUFH on the ground: I better say not only for Haiti, why not the whole world. To achieve the organization's Mission and Vision, I collaborate with people in Haiti and in US and I work harder fighting day and days to reach the goals and to see as well HUFH growing up fast. As a leader I am willing and able to sacrifice more making sure in short of period of time to accomplish a lot of good things for a better future.
"I am working to make sure we have very good team collaboration to reach our goal, to work together so that the team is always strong. Because to see HUFH Winning is to see my success as leader.
"These are my wishes in future for the organization:
Have a really good connection with the US Board and management

A stronger staff well trained, with good relations and welfare (family unity) for the staff
More visibility on our programs in the ground
Promoting our work by doing all best to have more donors
Have good report
Improve and increase HUFH's capacity
Create and/or strenghten partnership with MSSP, sister hospitals, other NGOs
Support the new Medical Director and Director of Nursing and work with medical staff and volunteers to maintain a strong and high quality meedical direction
Remain proud and happy in what I'm doing as responsibility and put all my knowledge on what I do to move forwards."
Rose-Laure Jeanty, MD – Medical Director
Rose-Laure's expresses her excitement at being a member HUFH's of core leadership group:
"I am extremely happy and proud to be part of the big HUFH family. It is a great privilege for me to be one of the members of the administrative staff in Haiti as the medical director. As a leader I am available and willing to work for the continuous progress of the organization and to help our people. I engage in working with science in consciousness to motivate and develop the sense of belonging and the sense of responsibility of employees, what will enable us to achieve the goals we have set through our currency "Heal Teach Support."
Fritznel Jean, Av. – Human Resources Manager and Legal Liaison; Asst. In-Country Director
Fritznel's states goals as a member HUFH's core leadership group:
"As Human Resources Manager, Legal liaison and Statistician for Hands up for Haiti, I consider myself as a full member of the Organization: the success of HUFH will be mine. I am fighting so hard every day so that HUFH can be on top.
As a leader, I wish to accomplish so many things with the organization. My Plan is:
Have a stronger staff in the ground, well trained and happy.
Have a better connection with the US director and board, and make them happy with the work I am doing.
Have more Programs on the Ground.
Help finding Donors by promoting HUFH with all the good work we are doing.
Connect with MSPP as they leading the healthcare in Haiti."
Youselene Pierre-Louis, RN – Director of Nursing
Youselene's goals as a member HUFH's core leadership group include:
"In all humility, I feel honored and flattered to be part of the HUFH family and for the position entrusted to me.

As a leader, I put all my skills to work to determine what to do and how to achieve the desired results. With passion, I assume my responsibilities as head nurse,  follow-up on time in order to lead to a better result. I make sure that all the staff are fulfilling their roles while highlighting the notions of professional ethics in order to fulfill our mission which is this one: "Heal-Teach-Supporter." I am fulfilled when I serve and I can meet the needs of others.
Dr. Manol Isac, Board Advisor and International Consultant
Manol, who served us for the last 5 years as our in-country Executive Director, is leaving HUFH to pursue other interests, but we are excited to welcome his continued assistance as our International Consultant and Board Advisor. Manol's continued hopes for HUFH include:
"I believe the mission is possible by supporting the efforts of everyone in Haiti and elsewhere working in this positive struggle to fight against malnutrition, allowing the vulnerable to have access to health care and considering the importance of health indicators when we know Health is a state of complete physical, mental and social well-being and not merely the absence of disease or infirmity.
"Let's fight together, converging our focus with the Haitian staff is the essential way to make things happen as it supposed to by keeping the same strategy, which is the fact of leaving the Haitian staff to produce under our supervision what they can to the well-being of everyone."
To learn more about our program leaders, nurses, community health workers and lay staff on the ground, click here.